Everyone is having a hard time with coronavirus, and I wondered if there was anything we could do.
From the Edo period, many yokai spirits became known to people in Japan via 'kawaraban' news broadsheets and old documents! These yokai have become famous with the spread of the new coronavirus pandemic, and especially the ones that were known for preventing infection by drawing and copying their pictures.
Amabie became a big topic in Japan. I was originally interested in yokai, and I started to research Amabie and other Japanese traditions related to epidemic diseases and bad fortune. This became my inspiration for making a series of drypoint etchings. Starting with Amabie, I also made drypoint prints of the Jinja-hime, Yogen-no-tori, Amabiko, Yamawarawa, Yamawaro, Honen-game, and Kudan. (You can find more detailed explanations about each yokai on the gallery pages.)
I shared these images on Facebook before our new website was ready. Now we thought it would be nice to have a series of postcards we could offer using these drypoint etchings as a base. You can buy the ones you like, or we have a set of the whole series for a discount.
Yokai postcard series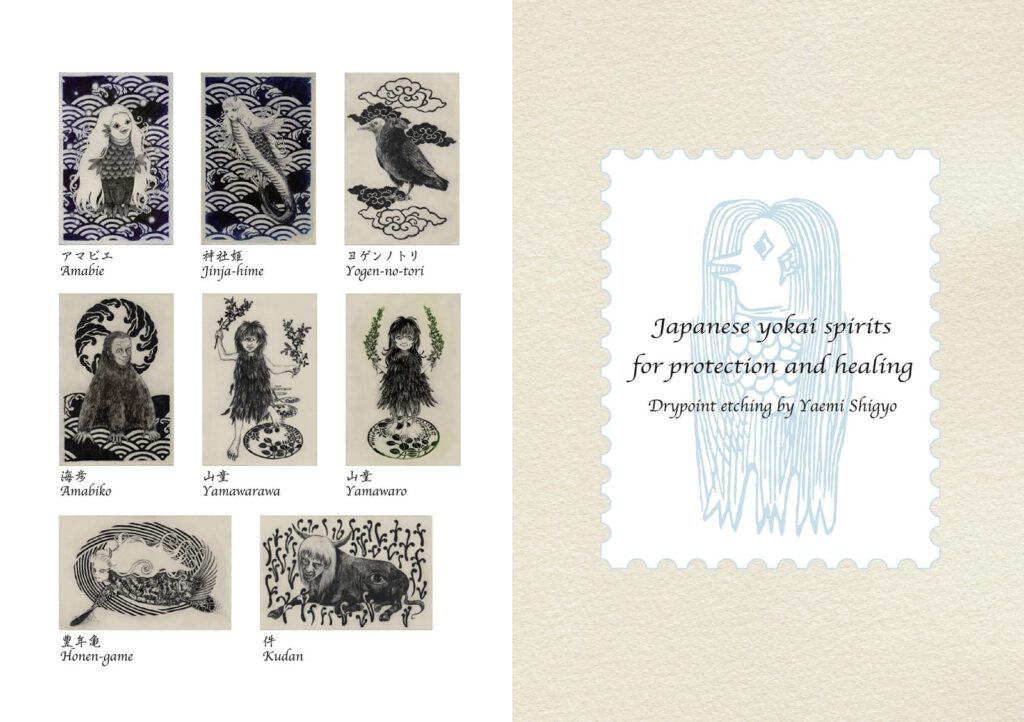 Yokai postcard set
A set of postcards with images of Japanese yokai spirits for protection and healing. From original drypoint etchings.
Includes eight postcards.
Individual postcards
I hope that my versions of these yokai can make people feel a bit better in these difficult times.
I will make more prints in this series, and post them on this website as I continue!