This page about the Fujica 35-ML camera was originally posted in 2003 and updated in 2009. It has proven to be one of our most popular pages, probably thanks to people searching for information on this lovely old camera. We brought this page back in September 2018 in the hope that someone might find it useful.
Recovery and Discovery
Among the many appalling lapses I recall from my childhood, I fear that I must have destroyed several beautiful old cameras – shapes and impressions remain, but nothing more. I had a mania for taking things apart, and of course never developed the skill to put them back together again. The first of my cameras to survive into the present is this Fujica 35-ML.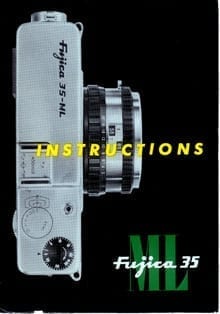 I went off to England briefly in my last year of secondary school, and a friend of my mother's presented me with this camera. It never made it with me to England, and after that it spent the better part of fifteen years snoozing in my closet. When I finally recognised what a lovely thing it was, I came close to destroying it: I failed to pay proper attention to the operating instructions, and wound back a roll of film without engaging the mechanism. The camera and I managed to recover from the experience; and I have a few interesting 'cracked' pictures to show for it: the film broke on the way out, and the lab taped it back together again.
Recoveries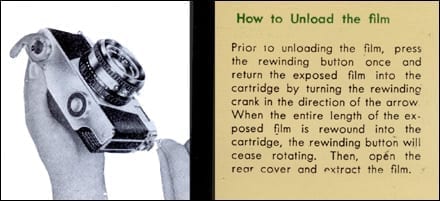 Technical Details
My Fujica 35-ML came with remarkably complete documentation. The inspection certificate reproduced below indicates that it passed inspection on the 1st of October, 1958. This does not give me a birth date to celebrate; but it does tell me when Fuji decided this camera was ready to be let loose in the world.

Fuji Photo Film's first lens-shutter camera was the immediate precursor of the 35-ML: the Fujica 35-M. It went on the market in time for the 1957 World Expo, held in Japan. The 35-ML is an early semi-automatic camera: lens aperture and shutter speed can be set according to light values read off a meter. A ring to adjust shutter speed is coupled to a ring to adjust aperture: it is possible to ignore the light values, but not possible to decouple the rings. This proves to be a minor annoyance in use. The light value adjustment ring, shown in the last picture in the sequence lower down on this page, seems to be the major difference between the 35-M and the 35-ML.
My 35-ML has a problem that is apparently common with this camera: all the slow shutter speeds fire as instant. It took me a long time to figure out why it was so difficult to print pictures taken in low light with this camera, but of course they are all vastly underexposed. Despite this, the 35-ML is a delightful camera to use. I should get back to it.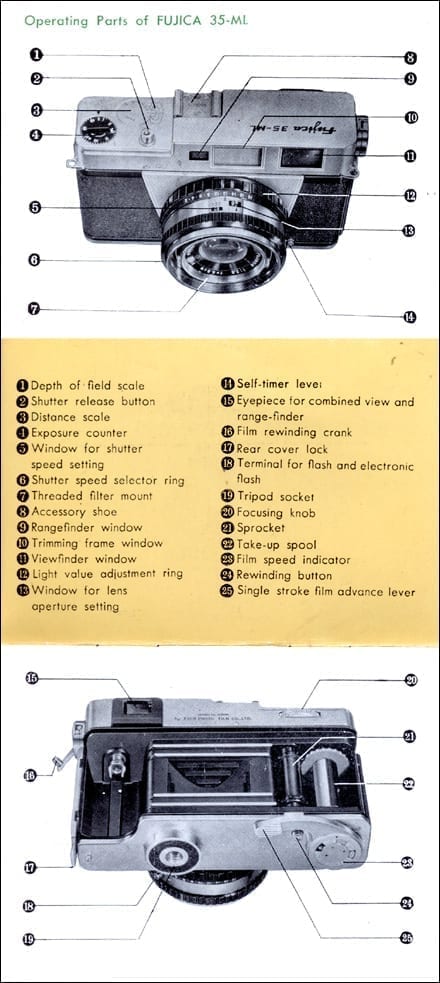 In working condition
The 35-ML is a rangefinder camera, with a reliable combination of straight helicoid focusing coupled with a parallax compensating viewfinder. It came mounted with a coated 45 mm Fujinon f2.8 five-element lens; mine is impressively sharp, and would stand up well in comparison with much younger lenses. The body was designed to be held in the left hand, and operated with the right: all the controls are positioned on the right-hand side of the camera. A hand-grip was available as an accessory, which screwed into the tripod mount.
The Fujica 35-ML in use
When we first published this page (in 2003), I included a number of examples of pictures taken with the Fujica 35-ML. Due to the (not very good) quality of the scanner we were using at the time, I don't think it would be very helpful to put them back up. However, some examples of the Fujica 35-ML in use might be of interest, so I am adding four pictures taken in Kumamoto City on 3 October 2004 and printed in 2004 and 2005. The Lafcadio Hearn residence is a renovated and restored facility that now serves as a memorial to his life and works. Hearn lived in this house in 1891. The sections of Kumamoto Castle shown here were extensively damaged in the 2016 Kumamoto Earthquake, and are now undergoing repair and restoration.
Additional resources
Mike Eckman has published a much more comprehensive article on this camera here. If you want more information on the Fujica 35-ML, that's the place to go.